OVERVIEW
Mountain Meadow Mushroom Farms, Inc. is a farm located in the rural area of Escondido in the greater North County San Diego.
We pride ourselves in providing the freshest high quality product to neighboring grocery stores, restaurants, farmers markets, and direct retail from our farm. We have diversified our product and services to fresh exotic mushroom, health supplements (tinctures and powders), mushroom jerky, growing kits and as always, we continue to give away our spent compost to the community!
HISTORY

The farm was established in 1952. In 1987 the Crouch family purchased the farm. Mr. Crouch expanded the farm to 27 growing houses - making it the largest white mushroom grower in Southern California producing 120,000 lbs. of mushroom per week. In 2008, Mr. Crouch's son, Gary Crouch and Roberto Ramirez partnered up and bought the farm with a commitment to carry out Mr. Bob Crouch's legacy. In 2019, Gary retired making Roberto primary owner of the mushroom farm. Roberto's wife, Olga Ramirez joined the farm in 2012 as the Manager of Human Resources with oversight of employee relations, payroll, and worker safety. It has been our pride and joy to work with amazing people along the way.
The Ramirez have grown a passion for fungi from the health perspective, the culinary arts, to the love for the people that have made a part of our team for decades. The farm, once being an employer for over 100 workers has now scaled down to an invaluable crew that we care to call "family." This team is passionate, loyal and committed to the forever evolution of the world of mushrooms. We are extremely proud to be a part of the Escondido community in the greater North County San Diego, California.



FRESH PRODUCT
All our fresh product is USDA certified organic and our facility is audited by PrimusGFS annually.
We grow Shiitake, Blue Oyster, Lion's Mane, King Trumpet, Maitake, Pink Oyster, Golden Oyster, Brown Oyster, Beech (white & brown), Pioppino, Chestnut
Our product is available for retail and wholesale. Contact us for pricing.
GROWING KITS

The same growing kits we use to produce our mushroom is the same growing kit we offer our customers. We have both retail and wholesale prices available. Growing kits include: Lions mane, King trumpet, Shiitake, Blue oyster, Pink Oyster, Golden Oyster and Maitake.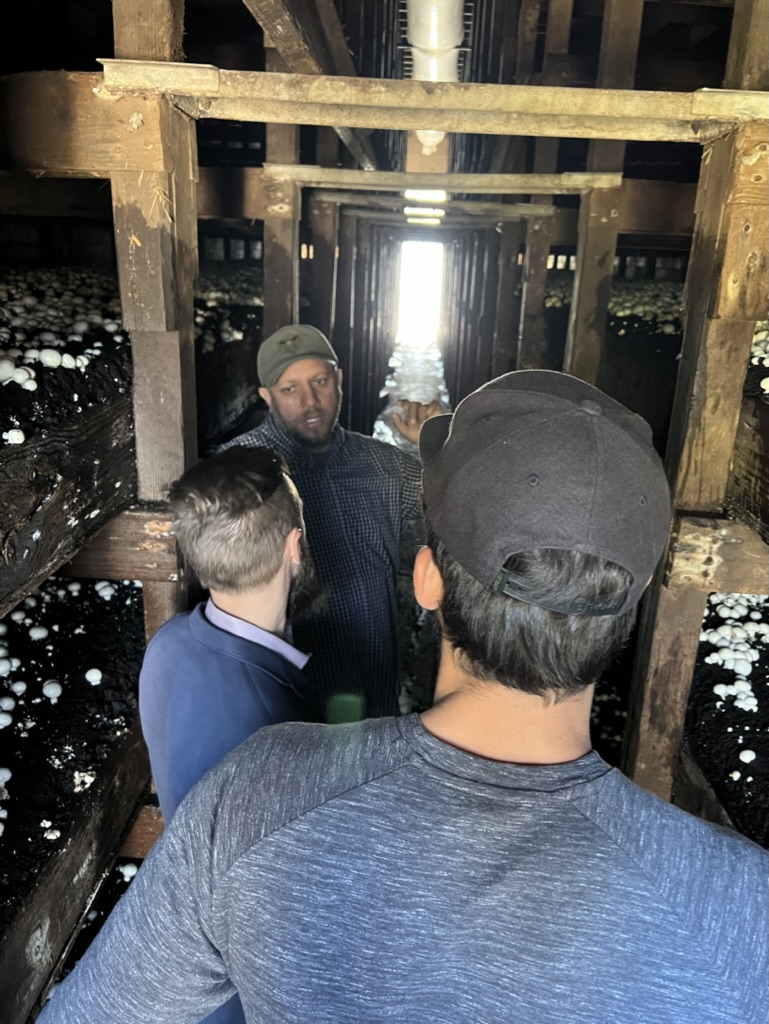 FARM TOURS
Learn about our growing process; from the making of our compost, to the growing, to the harvest, to the packaging, and to the customer. You get to harvest your own mushroom at the end. Tours are about 45 minutes long.
Tours are being offered Saturdays at 9:00 am.
Book Your Tour
HERE
MUSHROOM TINCTURES

Our Mushroom Tinctures undergo a dual extract process using 100% fruiting body - no additives and all organic ingredients. You can add to your tea, coffee, smoothies or directly under your tongue. The health benefits are amazing! Tinctures in a nutshell:
Agaricus Blazei - Blood pressure, cholesterol & sugar control
Cordycep - Energy
Shiitake - Anti-viral
King Trumpet - Anti-inflammation
Turkey Tail - Anti-tumor/Gut relief
Lion's Mane - Focus
Chaga - Detox
Reishi - Relax
Maitake - Antibodies/anti-tumor
As with any dietary or herbal supplement, you should advise your health care practitioner of the use of this product.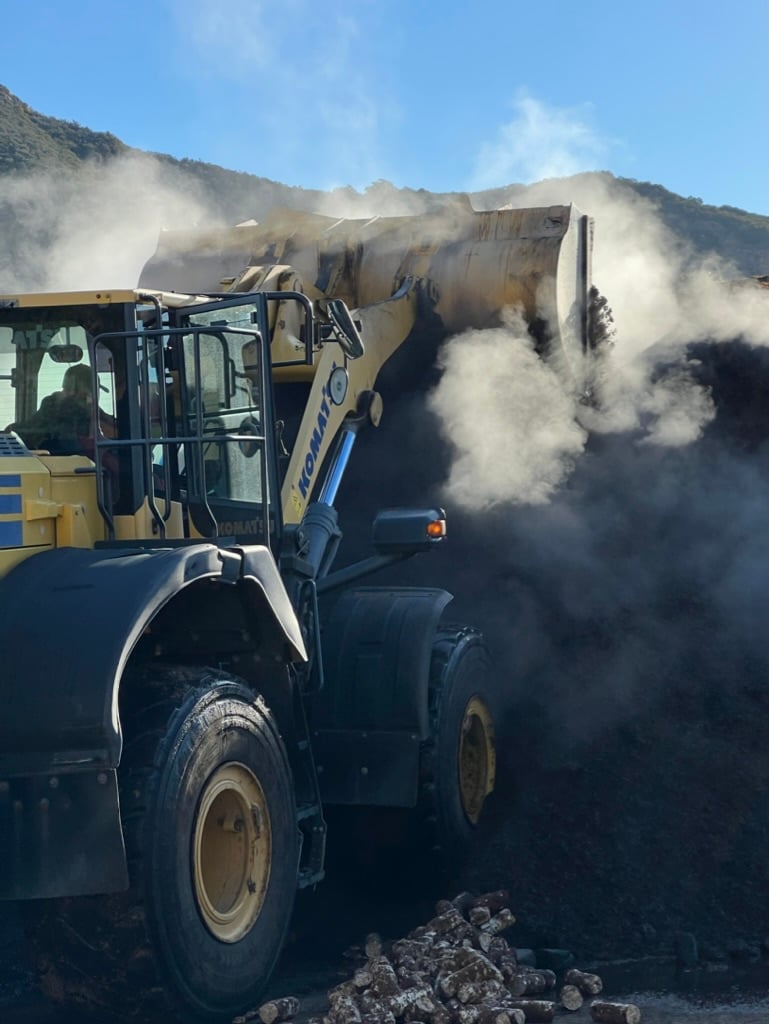 COMPOST
Our spent compost is FREE to the community! You must bring your own shovel and buckets. We can also load you for $30 - must be a truck bed or trailer. We are NOW offering deliveries of up to 10 yards.
To book a compost delivery, please call us. We can deliver up to 10 yards. Fees cover labor, loading and fuel costs.
For a quote, call or email us. We'll gladly book your compost for your gardening needs.
MUSHROOM JERKY
Mushroom jerky is made with all organic ingredients. It is the perfect trail snack. Blue oyster mushroom include a plethora of valuable constituents, like protein, amino acids, antioxidants, vitamins and minerals. Rich in vitamin B and vitamin D.
MUSHROOM POWDERS
Our mushroom powders are dehydrated and grinded. All powders are made with 100% organic fruiting body. We can produce by the ounce or by the pound. Dried mushroom is also available.
Crimini
Shiitake
Cordycep
Lions Mane
Turkey Tail
We sell our powder by ounce or by pound. We have both retail and wholesale prices.
Dried mushroom is also available. Contact us for more information.

I grew a phenomenal garden from their compost! Free and limitless! A great way to help home gardeners!

Cynthia B.
The world has gone mad for organic and local, while MMM is in our backyard. Best organic mushrooms ever!
Aleinna G.
It's muddy and smelly, but the compost is awesome! The mushrooms are even better... Yum!
Maly B.
I have been experiencing some aches and pains from inflammation on my feet and after a month or so of taking the mushroom tinctures; lion's mane and king trumpet I have never felt better!

Lisa M.