We give out compost out for FREE to the community!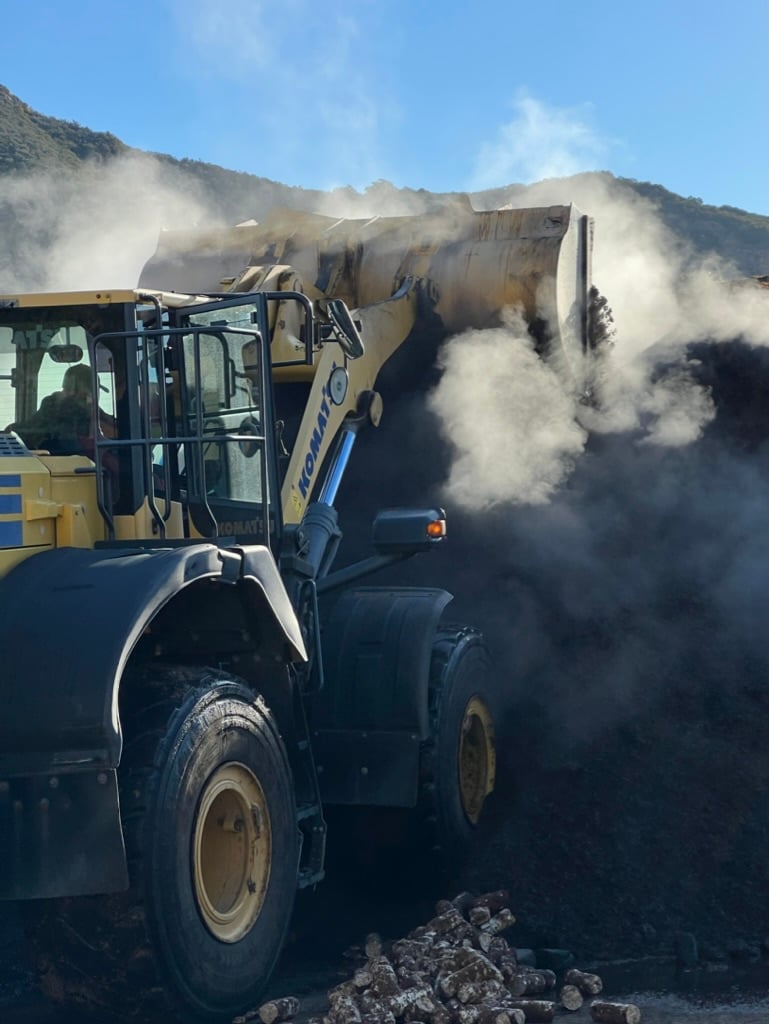 Often referred to as "spent mushroom substrate" (SMS), Mushroom Compost is the composted result of a rich growth medium for mushrooms. It is made from agricultural materials, such as straw, straw horse bedding, cottonseed meal, nut shells, and gypsum. Sphagnum peat moss adds to the organic nature of the substrate, providing a consistent, formulated and homogeneous product.
After the mushrooms are harvested, the Mushroom Compost is steam treated prior to removal to eliminate any pest, pathogens and weed seeds resulting in a PDA accepted fertilizer product. Mushroom compost has high water and nutrient holding capacity and exhibits no nitrogen draw down problems. As a fertilizer and organic soil amendment, Mushroom Compost supports plant growth in a variety of applications to the lawn and landscape and inhibits Artillery Fungus.
Our mushrooms are Pesticide FREE and USDA Certified Organic (by
Where Food Comes From Organic Inc). However, our compost is not certified USDA Organic, but we use all organic materials for our mushroom growing; zero pesticides.
Benefits of Mushroom Compost
Compost benefits for your garden or landscaping may include:
Increases organic matter in soil

Raises your soil's PH level

Improves water retention

Reduces soil compaction

Decreases the need for fertilizer
Compost Composition
Compost ingredients used may include:
Straw

Straw horse bedding

Cottonseed meal

Peat moss

Pistachio shells or almond shells

Gypsum

May contain wood chips/sawdust
pH 6.62
bulk density 574.73 lbs./cubic yards
Relative Value of Compost to Commercial Fertilizers
Numbers are calculated from a wet volume basis.
1 ton MC (equivalent to 3.5 cubic yards)
Nitrogen = 22.27 lbs./ton


Phosphate = 13.29 lbs./ton

Potash = 24.70 lbs./ton
Approximate weight: 30-35 lbs per cubic foot. 810-945 lbs per cubic yard
| | | |
| --- | --- | --- |
| | Lbs. per Cubic Yards | % |
| SOLIDS | 243.37 | 42.35 |
| MOISTURE | 331.47 | 57.67 |
| CARBON (C) | 81.13 | 14.12 |
| TOTAL NITROGEN (N) | 6.40 | 1.12 |
| ORGANIC NITROGEN | 6.17 | 1.08 |
| AMMONIUM NITROGEN | .21 | .04 |
| PHOSPHORUS | 3.82 | .67 |
| POTASSIUM | 7.10 | 1.24 |
| CALCIUM | 13.17 | 2.29 |
| MAGNESIUM | 2.01 | .35 |
| SULFUR | 4.91 | .85 |
| IRON | 1.07 | .19 |
| MANGANESE | .12 | .02 |
| COPPER | .04 | .01 |
| SODIUM | .67 | .12 |
| ALUMINUM | .89 | .15 |
| ZINC | .05 | .01 |